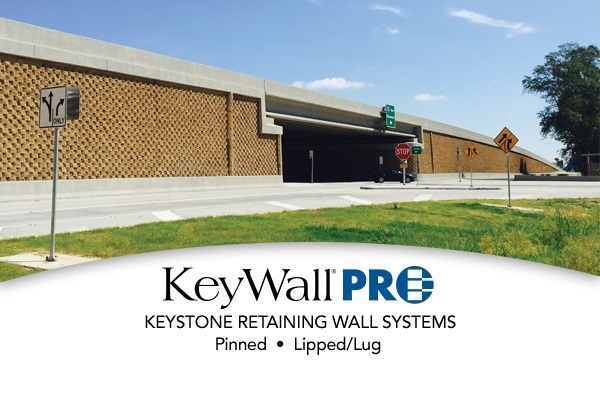 Powerful Keystone design software upgrade released
Over the last two years, Keystone Retaining Wall Systems has been working on an updated version of our industry-leading engineering wall design software, KeyWall. We are excited to announce that it has just been officially released and available for your use.
The new version, KeyWall®PRO, is advanced software for the design of Keystone's mechanically stabilized earth walls. It provides the design and analysis capabilities needed to prepare a complete MSE wall design in accordance with proven methodologies, and combines the features of KeyWall and KeyDraw.
Full wall layouts and design sections with complete quantity estimates can be generated. We've added more powerful design tools and updated design methods, including AASHTO 2015. The software supports pinned, lipped and lugged products, covering the full line of Keystone Retaining Wall Systems and Keystone Hardscapes structural walls.
How to get it
For those interested in an engineered wall tool geared for users with a design background or who have an earlier version and want to upgrade, click here. At this site you can obtain and register for the software, and pay a one-time fee of $9.99; the fee offsets the cost of ongoing program updating and our new automated registry system. The program may be installed on as many as two computers per registration.
Training
Throughout the spring and summer, we are holding software training seminars around the country. Contact your Keystone region manager or local Keystone producer for more information on these introduction and training presentations.
An updated version of the comprehensive reference booklet, Keystone Design Manual & KeyWallPRO Operating Guide, is planned for later this year. If you have questions or want more information about the software, please contact the Keystone engineering department at 952.897.1040.
Testimonials
Tim Gary, PE, regional manager of Triad Engineering in Sterling, Virginia:
I have designed with Keystone retaining wall products for decades with very positive results. I'm very impressed with the new KeyWallPRO computer program… It is well-thought-out, simple to use, and comprehensive in its capabilities.
Sean Chiang, PhD, PE, vice president of Ground Engineering in Englewood, Colorado:
Although packaged as proprietary software, it allows a great flexibility. The use of this software has improved our design efficiency.